THE MEMOIRS OF A WRITER
Happy Birthday Baby Boy
This post is a tribute to my baby brother. He turned 23 on June 29th. I can credit him and my other brother for introducing me to the new sound of hip-hop; otherwise I would not be "in the know." I'm from the old school, where Run DMC, Whodini, Salt N Pepa, Rob Base, etc were hot when I was in school.

Some of my friends are surprised that I listen to hip-hop; but with anything else, I can't say I like ALL hip-hop, but there's enough out there for me to enjoy it. My brother is the one who hipped me to Mike Jones. I was listening to him before he became popular. Now I can't turn on the XM radio without hearing one of his songs.

Anyway, I got a chance to spend time with my Baby Brother (who wish I wouldn't call him that) over the weekend. He's a grown man (over 6' 2") so why do I still see him as this little boy I want to protect?

I remember growing up as a teenager and having to babysit. How I wished my little brothers would grow wings and go away, because I had better things to do...i.e., talk on the phone uninterrupted, go to the park or mall with my friends, etc.
I used to think he was a spoiled brat (which he was spoiled, just wasn't a brat).

Memories...well I hope and pray that he enjoyed our company on his birthday weekend. I know I enjoyed his.
Who is DJ Miss Que Tee?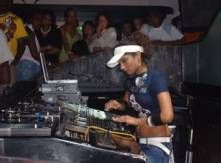 Shelia Goss: Please introduce yourself.
DJ Miss Que Tee:
Hey, My name's DJ Miss Que Tee. I am Sony/BMG (UK) Music's First Asian Female DJ. I play everything from RnB/ Hip Hop to Dancehall/Reggaeton to UK Garage and Desi. I'm based in the UK, but have traveled and DJ'ed in most of Europe, Canada and India.
Shelia: How long have you been a DJ and how did you get your start?
MissQueTee:
It all began when I wanted to make a mixtape for my car about 2-3 years ago. I was messing about with my friend's decks and slowly I started picking up things. Eventually I started to collect records, and that's when it all kicked off, however I didn't start djing professionally until the end of 2002.
At the beginning of my career, I think it was hard for people to accept an Asian female DJ. For example, when I use to turn up to gigs, I would stand behind the DJ box, and many people would mistake me for being a DJ's girlfriend. But when I was on the decks and started playing music, the response was crazy, half of the crowd would be dancing away, while the other half would stand there in shock watching me mix and scratch throughout my set.
If interested in the full interview, send an email to
sheliagoss@aol.com
My Invisible Husband mentioned in last week's New York Times
Young Publishers Dominate Black Fiction
is the title of the article that got my attention when I opened the link in the
New York Times
last week. The fact that
my latest book
,
My Invisible Husband
, was mentioned in the article had me reading it not once, but several times...just had to make sure I read it correctly (smile).
I stopped what I was doing after that (which was working on another manuscript), got dressed and went out to buy my copy of the
NYT
.
You can see the full article by clicking here:
http://www.nytimes.com/2005/06/20/business/media/20drill.html
.
P.S. - You will need to sign up to see the full article.
Meet MeKole Wells

Shelia Goss: Please tell the readers a little about you. Is Me Kole a stage name?
Me Kole Wells:
Yes it is.
Shelia: What type of music do you sing?
Me Kole:
Every and anything with a jazz base. I love jazz. I don't think I would sing anything else.
Shelia: What's the title of your CD and/or single?
Me Kole: Full Circle
is the title of my recent CD.
Stories In Life
is the title of my second CD, due to be released December 2005.
If interested in the full interview, send an email to
sheliagoss@aol.com
Are you an Email Junkie?
Email addiction...yes, it does exist. There was a poll on AOL last week asking participants how many times a day do they check their email. I realized if I'm logged on, when I hear "You've got mail" I'm inclined to check it immediately. One remedy I've come up with is to turn the volume off and the other remedy is not logging on to the internet at all and limiting my email views to 3 times per day.

What ways have you been able to juggle email, web surfing, etc with your regular life?

The quickiest way for someone to get a response from me is to not call me on the phone, but to send me an email. I promise to get better by answering the phone (but you know I've been trying to save my daytime minutes...smile).

To help cure me of this email addiction, I've limited my time checking my many msn/yahoogroup messages. I sent out an email earlier this week telling folks to email me directly if they need a quick response, because I'm trying to finish my manuscript.

I have gotten a lot more things done this week, but as with any addiction, it's been hard. I miss my online buddies and keeping "in the loop." Am I missing anything by not checking those group messages as much??? Hmmm, I'll never know.
Ask Me Anything Week
Ask me anything and I will answer it here on the blog later this week. Promise...you can leave your name or leave one anonymously...I'm not scared (smile).

I look forward to your questions.
Introducing B5
With their clear vocals and smooth dance moves, these five young men are well on the way to becoming a household name. Sean "P Diddy" Combs has done it again. He's found the next R & B sensations –
B5
.
Shelia Goss: Please introduce yourselves.
B5: Dustin, 17,
Kelly, 16,
Patrick, 14,
Carnell, 13, and
Bryan 10Shelia
: Describe yourself using three words or less.

Dustin
: Smooth, romantic, funny, & outgoing
Kelly
: Funny, laid back & crazy
Patrick
: Funny, outgoing & nice
Carnell
: Sexy, smart & cool
Bryan
: Handsome & smart.
If interested in the full interview, send an email to
sheliagoss@aol.com
Juneteenth
WHAT IS JUNETEENTH?
"Juneteenth" or "19th of June", is considered the date when slavery ended in America. Although rumors of freedom were widespread prior to this, the announcement of emancipation did not come until Union General Gordon Granger arrived in Galveston, Texas to
read General Order No. 3
, on the "19th of June", 1865. This was more than Two (2)
And A Half years after President Abraham Lincoln signed the Emancipation Proclamation http://www.19thofjune.com/archive/09221862.htm.

Juneteenth is now recognized as a state holiday or state holiday observance in Texas, Oklahoma, Florida, Delaware, Idaho, Alaska, Iowa, California, Wyoming, Missouri, Connecticut, Illinois, Louisiana, New Jersey, New York, Arkansas http://www.19thofjune.com/archive/052302.htm and also in the District of Columbia http://www.19thofjune.com/archive/052302.htm. Many more states, including Colorado, Oregon, South Dakota, Mississippi, Massachusetts, Pennsylvania, Montana, Maryland, Virginia, Michigan http://www.19thofjune.com/archive/052302.htm and Wisconsin http://www.19thofjune.com/archive/052302.htm have recognized Juneteenth through state legislative resolutions and Gubernatorial Proclamations.

In 1996, during the 104th Congress, historic legislation was introduced by Congresswoman Barbara Rose Collins (D-MI), House Joint Resolution 125 and passed the House of Representatives, recognizing "Juneteenth as the day of celebrating the end of
slavery in the United States and as the true day of independence for African-Americans in this country."

In 1997, during the 105th Congress, a historic joint Juneteenth resolution was passed by the Congress of the United States through Senate Joint Resolution 11, introduced by Senator Trent Lott (R-MS), and House Joint Resolution 56 , introduced by Congressman J. C. Watts, Jr. (R-OK), recognizing the "19th of June" as Juneteenth Independence Day in America.

The California Juneteenth State Holiday Bill is an excellent bill to review as sample legislation. Also review the Mississippi Juneteenth State Holiday Bill and the Kentucky Juneteenth State Holiday Bill.

When a state passes legislation to recognize Juneteenth as a state holiday or state holiday
observance, the NJOF works with the Juneteenth Organizations in that state to pass legislation for the creation of a State Juneteenth Commission. Through the State Juneteenth Commission, curriculum is developed to teach the history of slavery to freedom through Juneteenth in the public schools, projects are developed to preserve the history of the legacy of slavery to freedom through historic landmarks, monuments and other key historical projects and Juneteenth Celebrations and Festivals are supported through tourism and ecomonic development resources in the state.

The Mississippi Juneteenth Emancipation Commission Bill is an excellent bill to review as sample legislation.

The leader of the "Modern Juneteenth Movement" is the Founder & Chairman of the National Juneteenth Observance Foundation (NJOF) , Rev. Ronald V. Myers, Sr., M.D., Rev. Myers, or "DOC" as he is known to his friends, is a Baptist Minister, accomlished jazz musician, family
physician and medical missionary serving in the poorest geograhical area in America, the Mississippi Delta, through the Myers Foundation For Indigent Health Care and Community Development. Also Founder & Chairman of the National Juneteenth Christian Leadership Council (NJCLC) , "DOC" is a regular visitor to Washington, DC for the annual WASHINGTON JUNETEENTH National Holiday Observance. DOC is available for a fund raising concert or speaking engagement in your area!

Cick to sign the: NATIONAL JUNETEENTH HOLIDAY PETITION!
http://www.racedepot.com/jt/admin/petition_form.asp

Cick to sign the: Juneteenth Commemorative Postage Stamp Petition
http://www.racedepot.com/postagestamp/admin/petition_form.asp
Batman Begins is the Prequel of the Year
BATMAN BEGINS
is the prequel to all of the other Batmans. It's also the
BEST ONE
out of all of them. I would rather see sequels starring the same cast
(Christian Bale, Morgan Freeman, etc.),
than watch them recast.
The story takes you all over the world, ending up in
Gotham City
. It explains why
Bruce Wayne
uses the name "Batman" as well as how he flies(I wish I had some of his toys). I have to add the car he drives is superbad...won't see too many of those on the road.
This
Batman
had fears, but was able to internalize those fears to fight the enemy.
This
Batman
was believable in a sense that you could emphatize with him and see why he is the way that he is.
Christian Bale a/k/a Bruce Wayne
, in my opinion, is
Batman
beyond a shadow of a doubt. The voice, the mannerism, the whole persona is what I would have envisioned any superhero to be.
If you don't go see any other prequels this year, just make sure you go see
BATMAN BEGINS
. It's a must see. The other movie I would recommend is
WAR OF THE WORLDS
. I haven't seen it yet, but the previews are enough to make me put it on my "must see" list.
Be sure to stop back by...books, music, and movies...never know what I'll talk about.
Nikki's My Invisible Husband has nothing on Jennifer Wilbanks - The Runaway Bride
HOW FAR WOULD YOU GO TO PLEASE YOUR FAMILY AND FRIENDS?
NICOLETTE MONTANA FAKED A LAS VEGAS WEDDING
The fiction world that was created around Nicolette Montana pales in comparison to the real life drama Jennifer Wilbanks - The Runaway Bride has imposed on her family and friends.
I would love to find out what's going on in Jennifer's mind. Why did she go to the EXTREME to NOT get married? Why is she even wearing the man's engagement ring now? So many unanswered questions, but we'll all soon know the answers to those two and so much more.
I guess a simple interview could have answered those questions, but as someone mentioned online, everybody wants their fifteen minutes of fame. I ain't mad at her, but I wouldn't recommend anyone else doing something so outrageous.
Leave the Drama to the fiction characters, like Nikki.
Some would say that Nikki's world is unrealistic, but once again, Jennifer Wilbanks proves that someone's fiction, is another person's reality.
Remember the game charades? Nicolette(Nikki) Montana has taken the
game a step further. Get the scoop in
My Invisible Husband...before anyone else does.
My Invisible Husband - A Story With a Twist
A Conversation with Lifehouse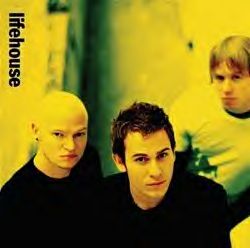 Lifehouse
latest CD is self-titled. These guys have qualities that your mom would love. Here's an interview with the group
Lifehouse.Shelia Goss: Please introduce yourself.
Lifehouse:
I'm Rick, the drummer. Been in the group for over 6 years.
Shelia: How did you all get together to form a group?
Lifehouse:
Original bass player quit during the two year hiatus. We stayed together because of the fans…more R & B than rock. Jason had Lifehouse…I was with another Dream Works artist…we passed each other in the hallways…I got called in for an audition and got chosen to be in the group.
Shelia: Who came up with the name Lifehouse?
Lifehouse:
Jason came up with the name.
Shelia: What's different about this album than your last ones?
Lifehouse:
We've seen peaks and valleys of the record industry. Our first record had massive appeal. The second record didn't live up to the first one. When we did the third album, we had no pressure. We went in and had fun. The CD sounds relaxed because it was relaxing to record…had good vibes and started recording the music…focused on sound…instead of trying to do it all too fast…it was carefree and the magic was there right away.
If interested in the full interview, send an email to
mailto:sheliagoss@aol.com
Destiny's Child Breakup is it Fact or a Rumor?
Not sure if you heard but DESTINY'S CHILD will separate after their world tour.
To some this isn't a big surprise. It's been in the making for sometime now.
Beyonce, Kelly Rowland and Michelle Williams
have all embarked on successful solo careers. It was only a matter of time.
Beyonce and Kelly both not only sing, but act. So I'm sure we'll see them on the silver screen, so it's not like they will disappear from public view.
If they are going to break-up, they are leaving on a good note.
DESTINY FULFILLED
in my opinion was their most mature and best CD to date. The lyrics are what drew me in and I'm glad that I have it in my collection. I didn't know at the time, it would be a collector's item.
I wish them each success, but I admit, I hate they are breaking up. They were one of the last R & B girl groups. There hasn't been one that I enjoyed listening to since EnVogue. I wonder what we can expect in the future.
If there are any other female groups out there, now is the time to hit the music scene. We'll need something to fulfill the void.
Ladies, if you read this, know that if you decide to stay together, we won't be mad at you. Good luck in your future endeavors.
Mr & Mrs Smith
Brad Pitt and Angelina Jolie are not your typical couple. They have been married five or six years, but yet there are still secrets between them. The chemistry between the two is undeniable.
These two are good together in more ways than one. Believe it or not, there aren't any raunchy sex scenes, but instead you see these two spar at it and the fire ignites as Angelina's character goes head to head with Brad's character without missing a beat.
Mr. & Mrs. Smith is a romantic action film that will have you laughing and cheering the characters on. It's a great date movie.
Me and You and Everyone We Know - The Movie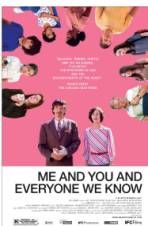 Me and You and Everyone We Know
is the new film directed by
Miranda July
. It opens in
New York City at the IFC Center on June 17, 2005
and will be shown across the country in July. The film and the writer/director/actor Miranda July continues to receive accolades, such as
Special Jury Prize at the Sundance Film Festival, #1 in Filmmaker Magazine's "25 New Faces of Indie Films" in 2004,
etc.
I enjoyed the film and a few hours after watching it, I had the pleasure of interviewing the writer/actor/director of
Me and You and Everyone We Know, Miranda July
. I was surprised to learn, it was her first feature film.
Filming can be a long process. How long did it take her to write
Me and You and Everyone We Know
? " Started writing it in June 2001, shot it in June 2004. It was a backburner project. Wrote on it a couple of days per month…was a hobby," Miranda July stated.
There are several lessons to be learned from watching the film. Sometimes things are not what they seem and in life you should keep an open mind. When asked what lesson would she like the audience to walk away with after watching it, Miranda responded, "Something is possible that wasn't possible before."
If interested in the full interview, send an email to
sheliagoss@aol.com.
CONTEST - A GODIVA CHOCOLATE DAY
There's nothing more satisfying than a good book
and a box of chocolate. Godiva sponsors have donated a pound of chocolate for
My Invisible Husband
author Shelia Goss'
June
contest.
To enter, send your name and email address to
myinvisiblehusb@aol.com
and put
CONTEST
in the header and you will automatically be entered to win a box of chocolate.
No purchase is necessary to win. All entries must be received by midnight June 30, 2005. Void where prohibited by law.
To be informed of future contests, please join my
mailing list by sending an email to:
sheliagossnewsletter-subscribe@yahoogroups.com.
CRASH An Emotional Ride
Life is full of surprises. In the movie CRASH, viewers are in for an emotional ride.
Before seeing the movie, several people told me that it was a "must see" and I thought to myself, "yeah right." Well, I have to agree with them.
The writers/producers/directors/actors did an outstanding job. The movie shows how race issues still exist but yet it puts a different spin to it. There are several surprises to it.
Although several storylines were going on, they were all linked together in some way.
In some scenes I was mad, then there were other times I wanted to cry. It will definately take you on an emotional rollercoast.
Don Cheadle, Jennifer Esposito, Brendan Fraser, Sandra Bullock, Chris Bridges, Larenz Tate, Terrence Howard, Thandie Newton, and Matt Dillon make for an all star cast.
I'm not an Oscar's expert or anything, but Don Cheadle deserves one. There's one scene near the end of the movie that grabs you so that you will want to clap.
Matt Dillon did an excellent job with his character as well. I wanted to slap the taste out of him, but then had compassion for him at the same time.
Terrence Howard is another actor to watch out for. I've been following his career and I think he's an outstanding actor. I can't wait to see his next movie--Hustle & Flow.
Sandra Bullock's character was a surprise but you'll see her grow by the end of the movie.
I can see Chris Bridges (aka Ludacris) in more films. He's a natural.
Larenz Tate is a cutie and I'm glad to see him back in movies. I've been a fan of his since Love Jones.
The message I got from watching this movie is something that we all should work on: Don't be quick to judge others. You never know the circumstances of why a person acts the way they do. The true strength of character comes during distress.
BAD BOY RECORDS NEW GROUP BOYZ N DA HOOD
June is Black Music Month. At least once a week, I will feature a new music artist on my blog. FYI-The Nivea Contest has ended. Six winners have been chosen and notified. Stay tuned for future contests.
A few weeks ago I interviewed Sean "P Diddy" Combs' new rap group BOYZ N DA HOOD.
If you haven't heard of Boyz N Da Hood (BNDH) then you haven't been listening to an urban radio station. These four men represent the boys from around the way and their debut single, "Dem Boyz" has been getting played around the country. Jody Breeze, Big Gee, Young Jeezy and Duke make up "Dem Boyz" or as they would like to be known as Boyz N Da Hood.
If interested in the full interview, send an email to
sheliagoss@aol.com.
Classic Soul Ballads Collection - Sweet Thing & Night and Day
Time Life Music
presents
SWEET THING
from
The Classic Soul Ballads Collection
.
Sweet Thing
is ALL the music you need to romance your sweetie.
Here are some of my favorites:
Disc 1
Let's Get It On – Marvin Gaye
Cruisin' – Smokey Robinson
Three Times a Lady – Commodores
I'll Make Love to You – Boyz II Men
I Feel Good All Over - Stephanie Mills
Disc 2
Being with You – Smokey Robinson
Just to Be Close to You – Commodores
Special Lady – Ray, Goodman and Brown
Sweet Thing – Rufus featuring Chaka Khan
Hey There Lonely Girl – Eddie Holman
For more information on this CD, visit the Time Life website directly:

http://www.timelife.com
.
NITE AND DAY
from
The Classic Soul Ballads Collection
IS another CD that you can put in your CD player, hit the play button, dim the lights, curl up with your honey and just RELAX.
Disc 1
Something He Can Feel – Aretha Franklin
Through the Fire – Chaka Khan
Miss You Like Crazy – Natalie Cole
Always – Atlantic Starr
What You Won't Do for Love - Bobby Caldwell
Disc 2
Close the Door – Teddy Pendergrass
Sweet Love – Anita Baker
One in a Million You – Larry Graham
Baby, Come to Me – Patti Austin and James Ingram
When a Man Loves a Woman – Percy Sledge
To listen to samples of the songs from this CD, visit the Time Life website directly:

http://www.timelife.com
.
This concludes the Time Life Soul Ballads Series.
Whether you're dating or married, your mate will surely show their appreciation for your musical tastes if you have any of the
Soul Ballads
CDs in your collection.