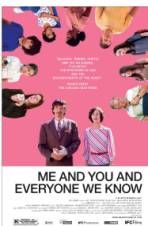 Me and You and Everyone We Know
is the new film directed by
Miranda July
. It opens in
New York City at the IFC Center on June 17, 2005
and will be shown across the country in July. The film and the writer/director/actor Miranda July continues to receive accolades, such as
Special Jury Prize at the Sundance Film Festival, #1 in Filmmaker Magazine's "25 New Faces of Indie Films" in 2004,
etc.
I enjoyed the film and a few hours after watching it, I had the pleasure of interviewing the writer/actor/director of
Me and You and Everyone We Know, Miranda July
. I was surprised to learn, it was her first feature film.
Filming can be a long process. How long did it take her to write
Me and You and Everyone We Know
? " Started writing it in June 2001, shot it in June 2004. It was a backburner project. Wrote on it a couple of days per month…was a hobby," Miranda July stated.
There are several lessons to be learned from watching the film. Sometimes things are not what they seem and in life you should keep an open mind. When asked what lesson would she like the audience to walk away with after watching it, Miranda responded, "Something is possible that wasn't possible before."
If interested in the full interview, send an email to
sheliagoss@aol.com.