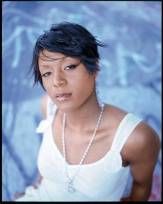 Ebony Eyez
is one of the few female rappers you'll hear on the airwaves. If our interview was any indication, she plans on making her own mark and will be around for a long time.
Shelia Goss: How do you feel about being compared to Lil' Kim or Foxy Brown?
Ebony Eyez:
No problem… I grew up on them…people can only compare me to ones that came before me…as time go forth, I can prove myself.
Shelia: You have some "In Ya Face" type lyrics. No pun intended (smile) What inspires your writing?
Ebony Eyez:
I let the music speak to me a lot…It tells me where I need to go with my lyrics…everything in life sparks something.
Shelia: If you weren't rapping, what would you be doing?
Ebony Eyez:
It would have something to do in entertainment, such as writing books or movie scripts.
If you're interested in the entire interview, please email me directly at
intheknow2005@aol.com
.
Jack Naka
said...
Just thought i would say hi from Japan. Doing some blog surfing and found your site. Im looking for some cool styles of beauty salon equipment for my own blog. Theres some really amazing blogs about. if you have time check out my site you will find information on
beauty salon equipment
. Well when i get my blog running hope you come and check it out.