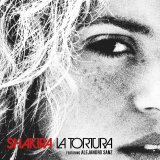 Colombian-born
Shakira
has become one of Latin Rock's most popular rising stars. This multi-talented singer will make a comeback in 2005 in a big way with the release of a two part album.
The first CD,
Fijacion Oral 1
, will be released on June 7th and
Oral Fixation 2
in November. I've seen double CD sets, but this is the first time I've heard of a two part album release.
Shakira comments, "I did not set out to make two albums when I began the writing process but suddenly I realized I had written sixty songs, some in English and some in Spanish. Twenty of these songs were selected and divided up by language to make two different albums."
"La Tortura" will be the first single and can be heard later on this month. It's in Spanish and features Spanish superstar Alejandro Sanz.
Shakira has received three Latin Grammys and won the Best Latin Pop Album Grammy for her MTV Unplugged album.
Content copyright © 2005 by Shelia M. Goss. All rights reserved. If you wish to use this content in any manner, you need written permission.
princessdominique
said...
Shakira has style. I enjoy her performances and she stands out as an individual in such a cookie cutter world that's a great thing!
Shelia
said...
I like her music. As you can tell I'm in to all sorts of music.